Grain Handling Equipment
Grainland has been importing Farm-King swingaway and conventional grain augers from Canada since 1994 and since then they have proven to be an extremely durable and reliable with a reputation for quality. Our range of grain augers was expanded a few years later with the adition of Wheatheart grain augers.
Wheatheart augers are ideally suited to Australian conditions with a range of options including hydraulic drive, petrol or diesel motors, PTO drive, galvanised barrels as well as hydraulic and manual mover kits.
Our line up of equipment has continued to expand over the years with the addition of  REM Grain Vacs, Hannaford Seed Graders, GrainAirr Silo Aerators, Crop Circle Portable Bunkers as well as a full range of Silo Aeration Equipment.
Wheatheart GULP

The Wheatheart GULP is an low profile drive over hopper that transports with the 13" X Series Wheatheart swingaway augers. The GULP hopper is only 4.5" (11cm) high and is ideal for the quick unloading of B-Double, B-Triple and Road Trains without the need to unhitch.
The drive over unit hydraulically lowers and swings into position while the one-touch ramp deployment provides easy setup in minutes.
Rodono Xtend Swingaway Hopper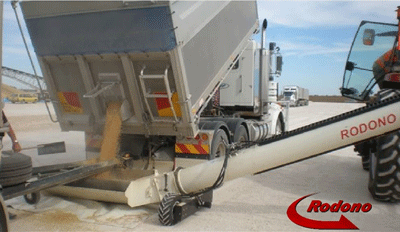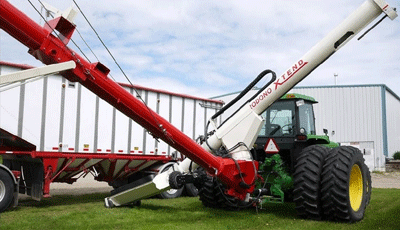 The Rodono Xtend Retracting Swingaway Hopper replaces the factory swingaway to allow the unloading of trucks without the need for a drive over pit. The Xtend is available as an option on 13" and 16" Farm King augers and can be retrofitted to most existing augers.
9' Full Stroke
20" Working Stroke
Twin Dual Flight Screws
Power Tilt Leveling
Mates to Farm King 13" & 16"
Utility Augers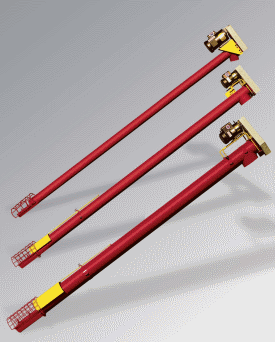 Utility Augers are available in 4, 6, 8 and 10 inch barrel diameters in various lengths with the option of electric or hydraulic drive.
Wheatheart Utility Augers are a modular auger system consisting of a basic auger section to which extensions can be added to get the required length.
The 4 inch basic auger is 11 foot long and comes with an adjustable motor mount, pulley and belt guard. Extensions are available in 5 and 10 foot lengths.
The 6, 8 and 10 inch models come with a 16 foot basic auger complete with motor mount, pulley and belt guard. Extensions are also available in 5 foot and 10 foot lengths.
Utility Augers are suitable for permanent and semi-permanent grain handling installations.
REM Grain Vacuums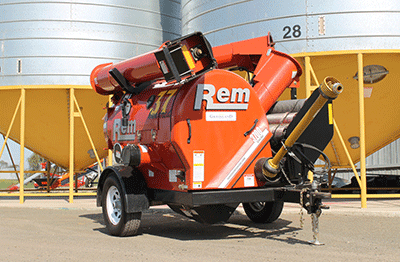 Manufactured in Canada the Rem Grain Vacuums have established the benchmark for excellence in grain handling.
The Rem Grain VAC eliminates dangerous open augers and makes empting bunkers and flat bottom silos easy.
The REM 3700 has a capacity of approximately 215 tonnes per hour with 7.5 meters of hose and the REM 2700  is capable of 57 tonnes per hour with 7.5 meters of hose.
Grainland have REM Grain Vacs for hire as well as outright sale.
Crop Circle Portable Grain Bunkers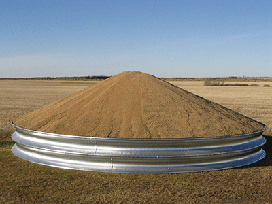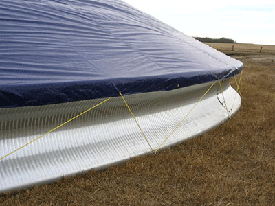 Crop Circle portable grain bunkers are easy to set up, take down and re-use. No special equipment needed to fill (auger or grain vacuum).
Capacities range from 200 to 2000 tones. Corrugated 22 gauge galvanised steel panels are used to provide a strong, reusable system for the temporary grain storage.
A choice of 300 or 600 GSM Australian made tarps provide excellent protection from the weather and wildlife. Keep harvesting even when bins and silos are full with the help of the Crop Circle
Crop Circles are available in 29,40,51,62,7077,90 and 100 foot diameters in either 2 foot or 4 foot high ring heights.
Crop Circle Brochure and Price List