Grainland has been importing Farm-King Swingaway and Conventional grain augers from Canada since 1994.
As of the 1st January 2021 we are now a dealer for AGI Westfield grain handling equipment.
Farm King Range.   Conventional and Swingaway augers, Pencil augers and Drive over grain auger plus Rotary Grain cleaner and GCS Air-powered grain cleaner.
AGI Westfield Range. Transportable, U-Trough and Swingaway augers, Utility auger,  X-Tend Retracting hopper and Belt conveyors.
Our line up of equipment has continued to expand over the years with the addition of  REM Grain Vacs, Hannaford Seed Graders, GrainAirr Silo Aerators, Crop Circle Portable Bunkers as well as a full range of Silo Aeration Equipment. 

AGI Westfield X-Tend Retracting Hopper

Utility Augers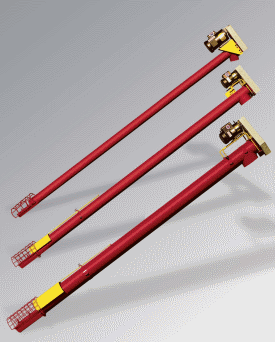 Utility Augers are available in 4, 6, 8 and 10 inch barrel diameters in various lengths with the option of electric or hydraulic drive. 
The 4 inch basic auger is 11 foot long and comes with an adjustable motor mount, pulley and belt guard. Extensions are available in 5 and 10 foot lengths.
The 6, 8 and 10 inch models come with a 16 foot basic auger complete with motor mount, pulley and belt guard. Extensions are also available in 5 foot and 10 foot lengths.
Utility Augers are suitable for permanent and semi-permanent grain handling installations.
REM Grain Vacuums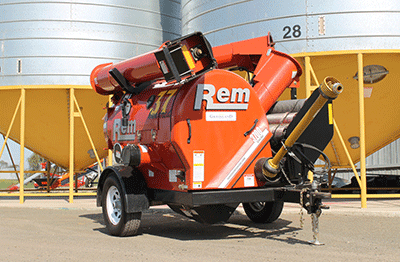 Manufactured in Canada the Rem Grain Vacuums have established the benchmark for excellence in grain handling.
The Rem Grain VAC eliminates dangerous open augers and makes empting bunkers and flat bottom silos easy.
The REM 3700 has a capacity of approximately 215 tonnes per hour with 7.5 meters of hose and the REM 2700  is capable of 57 tonnes per hour with 7.5 meters of hose.
Grainland have REM Grain Vacs for hire as well as outright sale.
Crop Circle Portable Grain Bunkers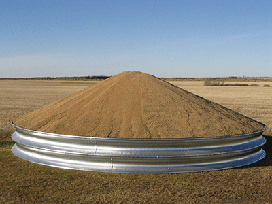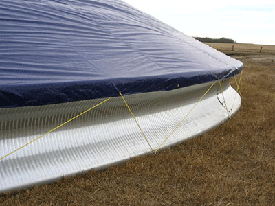 Crop Circle portable grain bunkers are easy to set up, take down and re-use. No special equipment needed to fill (auger or grain vacuum).
Capacities range from 200 to 2000 tones. Corrugated 22 gauge galvanised steel panels are used to provide a strong, reusable system for the temporary grain storage.
A choice of 300 or 600 GSM Australian made tarps provide excellent protection from the weather and wildlife. Keep harvesting even when bins and silos are full with the help of the Crop Circle
Crop Circles are available in 29,40,51,62,7077,90 and 100 foot diameters in either 2 foot or 4 foot high ring heights.
Crop Circle Brochure and Price List