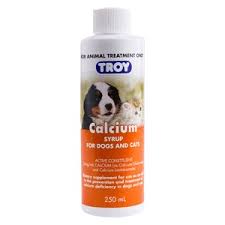 Calcium Syrup 250ml
DOG FOOD & SUPPLEMENTS:
---
Delivery Available
Your #1 Choice for Rural Supplies

Troy Calcium Syrup is an oral calcium supplement. It contains 22mg/ml calcium as calcium glubionate and calcium lactobionate. This syrup is intended for use in growing puppies and pregnant or lactating females, or in any other case of calcium deficiency. Always use as advised by your veterinarian. Not to be used in place of a high quality balanced diet or appropriate puppy milk.