Featured Products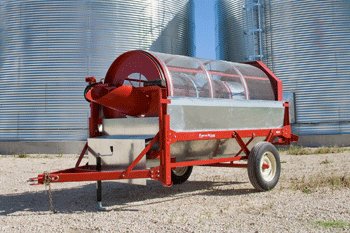 Farm King Seed Cleaner

The Farm King model 480 grain cleaner can handle up to 68 tons per hour, depending on moisture content and the amount of dockage. The two-stage screening process and large 1.2 meter diameter drum ensures the trash and fines are thoroughly removed from grain.
Grainland supply the Farm King seed cleaners with Australian made CNC punched precision screens that conform to Grain Trade Australia standards. A large range of screens to suit wheat, chickpea, sunflowers and canola are available with other sizes available on request.
Powered by a 3-horsepower motor, the Farm King 480 grain cleaner includes a removable intake auger and a hand-operated jack for in-field operation. Fines are separated from larger screenings and are unloaded from separate chutes. A trash pan collects the screenings. 15" wheels and a full frame transport are included.


Wheatheart GULP Swingaway Auger
The GULP is an low profile drive over hopper that transports with the 13" X Series Wheatheart swingaway augers. The GULP hopper is only 4.5" (11cm) high and is ideal for the quick unloading of B-Double, B-Triple and Road Trains.

The drive over unit hydraulically lowers and swings into position while the one-touch ramp deployment provides easy setup in minutes. Download the GULP brochure or call us on 02 67521511 for more details.